Ibuki Yao
250px

Character profile
Name
Ibuki Yao
Age
{{{age}}}
Gender
Female
Species
Human
Family
Unnamed mother and father
Location
School
House
Occupation
Patissiere
Status
Alive
About the Character
Edit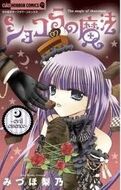 Ibuki Yao (Yao Ibuki) is the main character of the manga Chocolate Magic: Evil Essence. She appears in one of the menu "Chocolate Fondue: Uncertainly Pond". Her enemy, Shino Nanamura(Nanamura Shino) always get the 1st place and founds out that Shino is actually cheating.
Appearances
Edit
Ibuki is a girl who loves to fight with Shino, her biggest enemy. She always wanted herself to win.
Ibuki, like the other patissiere* wears a chef hat and wears chefs' usual apron, top and bottom. She has a white, short hair with frilly hair below.
Ad blocker interference detected!
Wikia is a free-to-use site that makes money from advertising. We have a modified experience for viewers using ad blockers

Wikia is not accessible if you've made further modifications. Remove the custom ad blocker rule(s) and the page will load as expected.